COTTON TEXTlLES

Cotton textiles occupy a prominent position in the country's textile industry. The industry comprises of three important segments, namely:-

(1) Hand spun and hand woven handloom sector.
(2) Powerloom sector representing the de-centralized small scale units.
(3) Capital intensive sophisticated mill sector.

The industry has rapidly undergone transformation in the recent past.

COTTON HANDLOOMS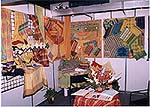 Handlooms constitute an important segment of
the textile industry of the country. This is more
so because of the employment provided by this sector. Floor covering and table linen are the two major items of exports of handloom made-ups. Other items of exports are bed linen, towels, dish, clothes etc.

The handloom sector plays a very important role in the country's economy. It is the largest economic activity after agriculture providing direct and indirect employment to more than 3 million and about 12.50 million weavers. Due to effective Government support through financial assistance and implementation of various developmental and welfare schemes, this sector has been able to withstand the competition from the powerloom and mill sectors. As a result of these measures, the production of handloom fabrics registered more than ten-fold increase from a level of 500 million sq. metres in the early fifties to 5851 million sq. metres in1993-94. This sector contributes nearly 22 percent to the total cloth produced in the country and also contributes substantially to the export income of the country.

Home furnishing and floor covering industry turns out an array of exquisite products which enjoy worldwide reputation for their beauty, workmanship and individuality. Furnishings and floor coverings including carpets constitute one of the important segments of India's decentralized industrial sector.

As the name itself suggests, handloom is the traditional hand-operated home made machine on which millions of Indians in the countryside weave cloth for themselves and the local markets. Next to agriculture, handloom is the source of livelihood for the largest number of Indians. lt is estimated that there are around 3.89 million handlooms in the county producing mainly cotton fabrics. The handloom sector consists of cotton weaving units, wool weaving units, and units engaged in weaving silk cloth. But almost 90% of all handloom fabric produced in large varieties, textures and designs in different parts of the country, have a special ethnic flavour as the people who make them often weave into the motifs reflecting the distinct racial, religious, social and cultural moorings.

The mercurial output of these looms includes plain casement, checks and stripes, handwoven bed linen with prints or jacquards designs and popular cotton varieties and furnishing fabrics made from coarser yarn counts. As the handloom weavers are generally from the poorer sections of society, some articles or class of articles are reserved for manufacture by them. These items includes yarn dyed dhoties, piece dyed dhoties, lungies, gamchos, bed covers and bed sheets, cloth of plain weave, table cloth and napkins and dusters.