INDIA TRADE PROMOTION ORGANISATION : A PROFILE
India Trade Promotion Organisation (ITPO) is synonymous with the country's trade promotion around the world all round the year. Indeed at ITPO, the promotion of trade is an exacting mission, translating into a search for new frontiers and new horizons in the word of commercial interactions, both at macro and micro levels. A mission that finds expression in the successful organisation of trade exhibitions in India and aborad, buyer-seller meets, promotion through department stores, contact promotion and product development programmes apart from dissemination of information on products and markets.
As the premier trade promotion agency of the Government of India, the India Trade Promotion Organisation provides a broad spectrum of services to trade and industry so as to catalyse the growth of bilateral trade, particularly India's exports, and technological upgradation and modernisation of different industry segments. ITPO's programmes are carried out in close with the Indian industry whose promotional needs it seeks to serve.

As a nodal agency of the Government, ITPO accords approval for holding of international trade fairs in India in order to ensure and facilitate, inter alia, customs clearance of imported exhibits. ITPO has been conferred the status of Mini Ratna by the Government of India. This honour is bestowed on select Public Sector Enterprises which register profits for three years in a row.
ITPO also has a proactive role to play in setting up trade fair complexes with its attendant infrastructural facilities in the Regional Centres of the country in collaboration with the State Governments concerned. The setting up of such complexes in Karnataka, West Bengal and Goa are currently in the pipeline and this is in consonance with ITPO's policy to provide an impetus to the country's overall export efforts. Consultancy is also provided in the form of Action Plans for promoting exports from different States/Union Territories. Besides the assessment of export potential as well as the identification of a set of products and techniques for export promotion.

ITPO has extensive infrastructure as well as marketing and information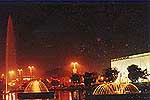 facilities which are availed both by exporters and importers. ITPO's overseas offices assist buyers seeking information relating to sourcing products from India - their availability, prices, reliable sources, delivery schedules and exporters' creditworthiness, India's liberalised industrial, trade and investment policies, suitable companies for joint ventures and investment, etc.
ITPO's overseas offices at New York, Frankfurt, Tokyo, Dubai and Moscow are pursuing investment opportunities, besides their activities aimed at promoting India's exports.
The main activities and services of ITPO are summarised below :
Managing the extensive trade fair complex, Pragati Maidan in the heart of Delhi.
Organising various trade fairs and exhibitions at its exhibition complex in Pragati Maidan and other centers in India.
Extending use of Pragati Maidan for holding of trade fairs and exhibitions by other fair organisers both from India and abroad.
Identifying and nurture specific export products with long range growth prospects.
Cultivating overseas buyers through timely and efficient services.
Establishing durable contacts between Indian suppliers and overseas buyers.
Assisting Indian companies in product development and adaptation to meet buyer's requirement.
Organising Buyer-Seller Meets and other exclusive India Shows with a view to bringing buyers and sellers together.
Organising India Promotions with Department Stores and Mail Order Houses abroad.
Participating in overseas trade fairs and exhibitions.
Arranging product displays for visiting overseas buyers.
Inviting overseas buyers and organise their meetings with Indian suppliers.
Assisting in locating suitable foreign collaborators for transfer of technology, joint ventures, marketing tie-ups and investment promotion.
Organising seminars / conferences / workshops.
Encouraging and involve small and medium scale units in export promotion efforts.
Conducting in - house and need-based research on trade and export promotion.
Enlisting the involvement and support of the State Governments in India for promotion of India's foreign trade.
Promoting establishment of facilities and infrastructure for holding trade fairs in State Capitals or other suitable locations in India, in consultation with concerned State Governments.
" For further details about ITPO including Exhibitions in India and ITPO's Overseas activities, please log on to website www.indiatradepromotion.org
| Services to overseas buyers | | About Us | | Home |



Pragati Bhavan, Pragati Maidan, New Delhi-110 001,
Tel. : 91-11-3319841, 3371700, Fax : 91-11- 3318135, 3371871
E-mail : itpo@giasdl01.vsnl.net.in

Site designed and maintained by Expopoint.Com
If you have any comments or find problems accessing this web-site, feel free to contact Webmaster